Why Advertise With Us?
Excel Travel & Style Magazine provides editorial content with features on travel and destinations in Africa, the Caribbean, and around the world. We also feature multi-cultural fashion trends, designer spotlight, food and cuisine, events, personalities, art and culture across Africa and the Caribbean including a section dedicated to community service.
Excel Travel & Style Magazine offers its readers in-depth knowledge of Africa, the Caribbean, and other tourist destinations. It not only highlights travel, but also unique cultural traditions, interior design, clothing, accessories, art, food, music, and events.
Every issue of Excel Travel & Style Magazine features stunning imagery and educational articles relating to travel / tourism, fashion, lifestyle, food, festivals, carnivals, weddings and culture in Africa, the Caribbean, and beyond. Published bi-annually, the publication has glossy pages that shine a spotlight on all corners of the globe. The magazine's content and bold layout excites the eye and maximizes readership and readers per copy. We also feature exclusive interviews with designers, artists and personalities from various African and Caribbean countries, and beyond.
Excel Travel & Style Magazine is the perfect vehicle to deliver your message to travel conscious and cultural enthusiasts.
Frankly speaking, with thousands of individuals and business owners using and enjoying our ultimate advertisement platform, your business cannot afford not to use our services, and that is just what we are here to give you. So if you are running a business and you are not using our services yet, you will need to take the plunge now or risk being left behind by your competitors.
So what are you waiting for? Join thousands of satisfied partners who have experienced the power of Excel Travel & Style Magazine.
Special: Purchase Advertisement today and Receive 60 percent sale for the first 25 customers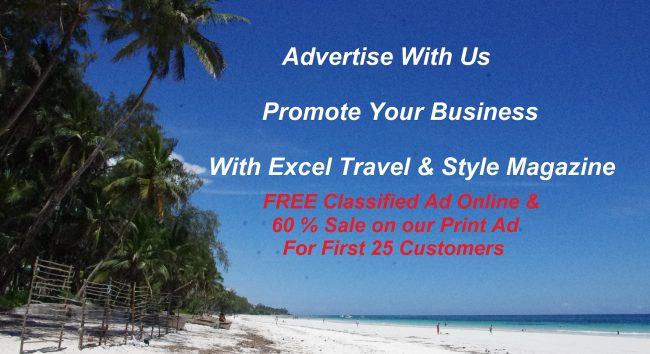 http://excelglobalmediagroup.com/shop/
Remember, every journey begins with a step; if you don't take the first step…you'll never reach your goal. Think about it…
DON'T JUST TAKE OUR WORD FOR IT, SEE WHAT PEOPLE ARE SAYING…
"We decided to advertise with Excel Travel & Style Magazine and we are pleased with the results.  Besides the print advertisement, they exceeded our expectations with their online promotions via e-newsletters to their subscribers, video slideshow and by posting our ad / flyers / videos on e-groups, their website and social media."<< Hon. Matthew Omegara >>

<< Kemsmat Hotel >>
"Our sales have increased since we started advertising with Excel Magazine. We receive a regular flow of guests from the US who heard about our hotel from reading the print magazine or their online reach. They create and design our ads also with creativity and flair. Great media partner."<< Kingsley Onyegbule >>

<< Imo Concorde Hotel >>
"Excellent media coverage by Excel Global Media Group. Great magazine editorial and photos by Excel Travel & Style Magazine. Excellent video quality and editing by Excel TV. This was an enchanted experience."<< Nkem Oji-Alala >>

<< Emergent Business Solutions >>
http://excelglobalmediagroup.com/shop/
Excel Travel & Style Magazine
P. O. Box 692454, Houston TX 77269
Email: exceltravelstylemagazine@gmail.com
Website: www.exceltravelstylemagazine.com
Phone: 1-832-497-5853, 1-832-483-4864 (USA)